Click Here to Add a Title
**NEW ONLINE CLASS: WEDNESDAY LUNCHTIME 12.15 - 1.45pm**
ASHTANGA LED PRIMARY SERIES CLASS
Online via Zoom.

Book via Move GB or directly through me. Not for complete beginners, we will be working through the Primary Series at a moderate pace. Please contact me if you have any questions.

**NEW ONLINE CLASS: WEDNESDAY EVENING 6 - 7pm
ASHTANGA BEGINNER/INTERMEDIATE
Online via Zoom. Book via Move GB or directly through me. Suitable for anyone wanting to get a solid foundation in The Primary Series of Ashtanga Yoga, from beginners to those with some experience. Gradually working towards mastering the series, with attention to breath, alignment & safety whilst staying true to this practise as a moving meditation. If you are not sure of your level, this class may be a good one to start with, but do contact me with any questions.

ASHTANGA VINYASA (MYSORE STYLE) CLASS: THIS CLASS IS TEMPORARILY SUSPENDED

Tues/Weds/Thurs/Fri @ My Home Studio, St. Werburghs, BS2

8.45am - 10.30am

Learn at your own pace within a group setting, and receive hands on adjustments & modifications to suit your individual needs. If you have an existing practise then please arrive promptly so that you have time for your whole practise. If you are a beginner or fairly new to the Ashtanga practise then arrive by 12.15pm to make sure you have enough time for your practise. Beginners need not worry, learning the practise 'Mysore-Style' is the best way to learn it as you take things at your own pace. That's what I did and I never looked back:) Any questions & for venue details please contact me.

£8 drop-in, monthly pass for Mysore classes £60, also available on Move GB

GENERAL ASHTANGA INFO

ASHTANGA VINYASA YOGA is a strong flowing form of yoga combining postures & movement with precise 'counted' breath work. I have been a dedicated practitioner of Ashtanga Yoga since 2005, when I started practising with Ryan Spielman & Joey Miles at Triyoga Primrose Hill. I have been blessed to have had many wonderful teachers over the years, including life herself ;), & I continue to practise in the throes of motherhood & to study with my teachers Philippa Asher & Ryan Spielman whenever possible. Ashtanga Vinyasa Yoga has brought me through some of my toughest times, with its beautiful simplicity of body, breath & movement.
I trained to teach Primary Series with David Swenson in 2009 & then assisted Mysore Classes at Triyoga London with Joey Miles & Eileen Gauthier, as well as courses with Leela Miller, Ryan Spielman & Sarah Cullen. I have taught Primary Series Classes, Beginners' Courses & Mysore-Style students on & off since 2009. I am comfortable teaching Primary Series and into Intermediate Series.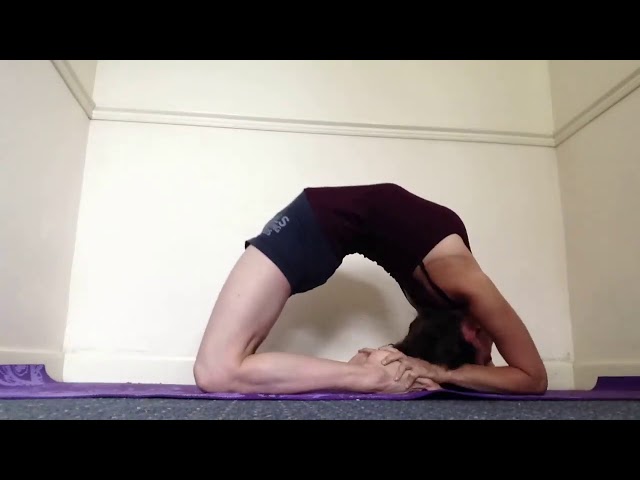 0

/